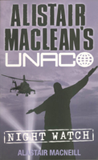 Photos from top: Alistair MacLean's
Air Force One Is Down;
The Wicker Tree; Noel Coward's
Blithe Spirit; Alistair MacLean's
UNACO Series; Razzle Dazzle;
Armorglide; Aquabats in action;
Michael Gambon as William The
Conqueror in Blood Royal.






Air Force One Is Down - Produced in association with Powercorp and Sonar Entertainment, Alistair Maclean's highly charged international thriller is brought to life in this explosive 4 hour television mini-series.

The Wicker Tree - Robin Hardy's follow up to his cult classic The Wicker Man.

Blithe Spirit - Based on Noel Coward's timeless comedy. Film adaptation by Piers Ashworth and Nick Moorcroft.

UNACO - Created to battle a growing army of international terrorists and super-criminals. The United Nations Anti-Crime Organization comprises elite specialists from around the globe. View Link:

Razzle Dazzle - A six hour television mini-series set against the high energy world of team ballroom dancing. Written and Directed by John Henderson from an original screenplay by Arthur Hopcraft.

Armorglide - The year is 2080 and only thirty-five stars remain fluttering on the American flag. Lawlessness and anarchy prevails across the entire country. To be filmed in 3D from the graphic novel. Screenplay by David Reilly.

Aquabats - Breaking out of the marine park where they are captive performers was only the beginning of their hilarious adventures in this unique animated adventure.

Blood Royal - A series of docudramas focusing on the provocative private lives of English monarchs from William the Conqueror to George IV. Pilot episode stars Michael Gambon as William, following his victory at the Battle Of Hastings in 1066.

Swan Neck - Harold of Wessex and Edith Swan Neck's unforgettable love story set against King Harold's epic struggle with William the Conqueror culminating at the Battle Of Hastings in 1066.

Lorna Doone - A Western adaptation of R.D. Blackmore's British literary classic, Lorna Doone.

Puccini - A major motion picture based on the extraordinary life of composer Giacomo Puccini (La Boheme, Tosca, Madame Butterfly).












The Making of Air Force One Is Down




The Wicker Tree Trailer





Going Forward

BRITISH LION

- Will continue to raise substantial equity capital from one or more strategic partners which, when combined with debt and incentive financing, will fund the development, production and marketing of a slate of motion pictures and television programming from offices in London and Los Angeles.

- Will distribute its motion pictures in the United
States and Canada through a major studio.

- Will return to UK distribution.

- Will undertake the sale and exploitation of its
product in all media outside the US, UK and
Canada with its own foreign sales executives
and/or a major studio in some territories.

For further information contact
Peter Snell / Los Angeles
on email: